How Close is Too Close?
27 Mar 2014, Posted by Gone Fishin'
in
When fly fishing here in Colorado on any waters that are less than two hours away from Denver you will often times find it to be a little crowded, especially on the weekends. That is why, when possible, I like to go during the weekdays. You get a better chance of it just being you, the outdoors, and hopefully the fish.
Earlier this week I took a day off work in hopes of enjoying a little solitude and catching some trout on the fly. I arrived at the river fairly early and just as I hoped there was no one around. It was pretty cold so I took my sweet time getting my gear on and rod set up. After about a half hour of fishing (mostly knocking ice off my guides and trying to keep my hands warm) I noticed some guy coming down the mountain towards the river about 300 yards downstream. I continued to watch as he crossed the river and headed upstream towards me but on the opposite side. "I wonder where this guy is going," I thought to myself. Soon enough I found out. He stopped about 15 yard upstream from me and proceeded to fish just outside the run that I was fishing. Was this some sort of practical joke? Am I being filmed? I looked upstream about 500 yards, not a soul. I looked downstream 500 yards, not a soul. I didn't get it. There was so much river and so many open spots and this gentleman decides he is going to come as close to me as possible without actually fishing in my spot. I didn't know what to do. Should I say something or just keep fishing and try to ignore this guy. I kept quiet and just tried focus on fishing but he was hard to not watch. Besides being close to me he was also very distracting. He had two rods with him. The one he was fishing was set up for nymphing and I assumed the other was set up for dries in case it warmed up. Anyway, he leaned his extra rod against the bush while he fished and then kept looking back at it making sure it was still there. Dude, it's just me and you here. No one else. Your rod is safe!
After about 30 minutes he went upstream about 50 yards. No luck there so he then went downstream about 300 yards. At that point I could finally relax and enjoy myself and what do you know, I was able to catch a nice rainbow! It was like his presence was affecting my fly fishing mojo. I didn't have any more luck after that, but I didn't stay much longer because the wind was quite annoying. Check out a couple shots from the day. Stay Fly.
This guy is third from the top on the Trout Names shirt.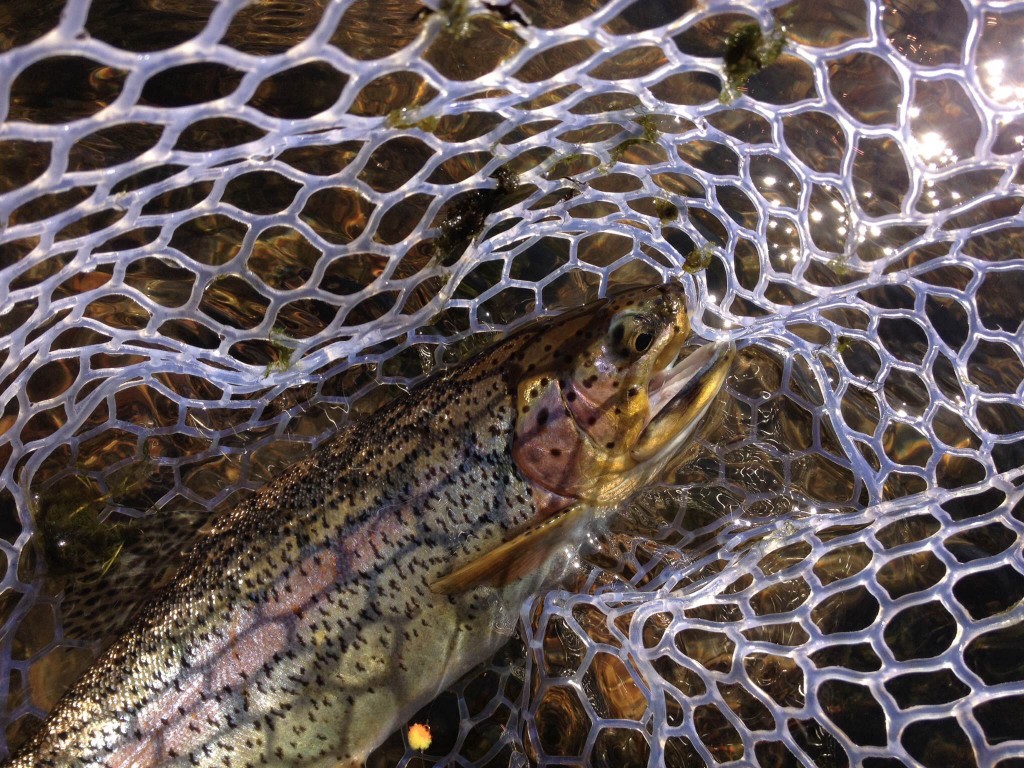 Wore the Red Colorado Trucker Hat.